We all have a duty to protect the environment and develop our communities. As an outdoor brand, we must play a strong role in looking after the stadium in which we play, compete and live. Sailing itself is about making the most efficient use of the elements and enjoying nature without inhibiting it. Rooster are committed to ethical and sustainable business practices. We take account of our social, economic and environmental impact. We aim to be beneficial to the planet, our employees, customers and communities.
Environmental Steps
We believe that our love for the outdoors comes with a responsibility to protect the environment and contribute positively to the communities we serve. As an outdoor brand deeply rooted in the spirit of adventure, we recognise the importance of safeguarding the very playgrounds in which we play, compete, and live.
We are proud to be collaborating with Ocean Co a global movement dedicated to collecting 7 billion ocean-bound plastic bottles by 2025.For every purchase of Aquafleece® products, you will be saving up to 2kg of plastic from entering the Ocean–that's up to 200 ocean-bound plastic bottles!
 To learn more, and track our impact,check out our partnership page
Product Design
We design products for durability and performance at the very peak level of the sport. No stone is left unturned in the research and testing for new product development. We regularly update our existing products and reassess them for performance, longevity and their environmental footprint. Product care information is included on every product page and on all product labelling.
We take these steps to make sure that they are excellent quality, value, last for a very long time and in turn, promote a more sustainable lifecycle through reduced over-consumption.
In 2020, we started to move over to more eco friendly premium materials and linings for enhanced comfort, feel and warmth (when it is needed). Some examples of the changes can be seen below: 
 
Water Based Glue
Eliminates harmful volatile organic compounds (VOC) releasing into environment.
Limestone Based Neoprene
Natural earth mined limestone is used to form the neoprene replacing traditional petroleum based neoprene, which can also cause less skin irritations. Comes from nature and has less environmental impact.
Dope Dyed Yarn
Saves 60% water and energy consumption.
Recycled Polyester
On the black surface fabric, we use polyester made from recycled plastic bottles. 45 plastic bottles are sufficient to make 1 suit - all helping to improve the product lifecycle.
We have utilised recycled polyester in more of our products (including all of our T-shirts, Superlite Eco Vest, Superlite Jacket, and Recycled Knit Beanie amongst other products) as a step towards our long term sustainability plan, where we aim to reduce our impact on the environment by minimising our dependence on some traditional raw materials that can release harmful chemicals and emissions. Recycled polyester is made from consumer recycled plastic items such as single-use plastic bottles and other plastic packaging.
Packaging
Our use of plastic is on the rapid decline, and our investigation into reducing our plastic use is ongoing. We are introducing lighter weight/smaller packing bags on the occasion where plastic packaging is still necessary, and have made big leaps into the reduction of our plastic use. Our Buoyancy Aids, Boots, Trapeze Harness and Harness back pad all come in reusable mesh bags with absolutely no plastic packaging. All boxes are reused in the warehouse as customer packing boxes, or recycled if unusable. All our packaging is now in the process of dramatic change. We are reducing the amount of cardboard for our sailing boots and shoes, a thinner card with no lid and a reusable boot bag over the top. This is already being distributed with our new Pro Laced Ankle Strap Boot and will be implemented in all further shoe production.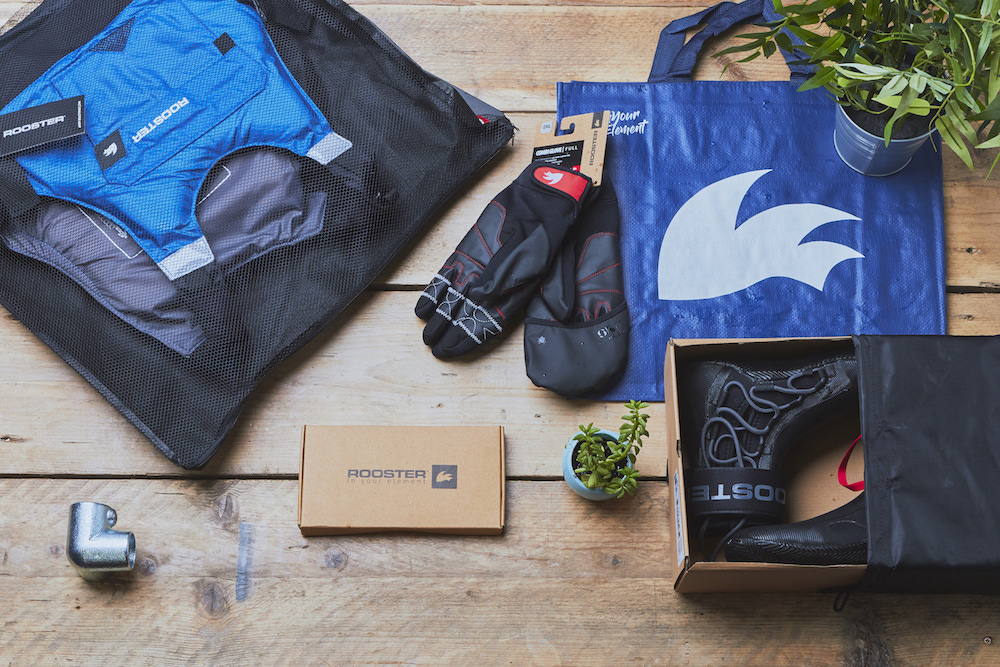 We moving to recycled plastic bags as much we can so that they can keep in circulation rather than taking new raw elements to process new plastic for our bags - these are also recyclable.
At Rooster we have not opted to use compostable or biodegradeable bags on our main ranges as the confusion over how to compost them often results in people doing it incorrectly and putting them into normal recycling which creates contamination in recycled plastics - as they cannot be recycled. Another reason for not using these bags is their shelf life is often maximum 2 years (in consistent conditions - temp etc), which isn't sustainable for Rooster as often they can be on a ship for up to 6 months where they go through several temperature and humidity changes, and therefore can degrade quicker and thus not protect our products.
On some products we have used paper/unbleached card, however due to the nature of factors that affect protecting the product, reusing/repacking, volume taken up in container (and high carbon footprint) we have not chosen to use paper on everything - paper/card also uses a lot of water and energy to process.
In an effort to further reduce packaging and transport, we are happy to offer local collections. We have made changes within the brand to make consistent use of raw unbleached card/paper for product labels and print media, with as minimal use of ink as possible. We make absolutely zero use of polystyrene packaging. We have developed a new 'bag for life' to be used at events, shows and for Rooster HQ collections. These will replace any plastic bags, and are encouraged for reuse.
Rooster HQ
The Bike to work scheme is available for all staff members to encourage cycling and reduce the amount of driving the team are doing. Especially with everyone living so close to Rooster HQ, the office bike racks are well used. There are some keen cyclists amongst the team and regular comparisons are made on Strava.
All staff have Access to various perks, one thing apparent throughout the office is that every person has a large black Chillies, Final Straw Solent 750ml bottle, for personal use and for use at all Rooster events/shows. The ability to keep drinks hot or cold for a long period of time means that none of the Rooster team needs to buy any hot drinks from cafes/vendors with a single-use cup. We each have a Rooster water bottle as well and install our own water cooler at events which don't provide a fountain. No one is without water or has the need to buy a plastic bottle. The water cool that we keep in the office and cart around with us to events for refills enable us to donate to Christian Aid work with the more water we drink.
Social Steps
Our core values aim to Inspire, Educate and facilitate access to the freedom of being on the water #InYourElement. There is no clearer way of embodying this than with the Sail GP Inspire Programme, as they enable on the water education, and inspiration to the next generation in every corner of the world. Making the ability to enjoy and appreciate the water, available for those who don't get the opportunities we often take for granted. Working around the world with SailGp Inspire we get to meet a new generation all around the world, get them the kit that keeps them on the water and spread the love and respect for the sea.
| | |
| --- | --- |
| | |

We support a number of sailors at very different stages in the sport. From grassroots to professionals, all ages and all abilities, we aim to give our best support to those who need it the absolute most. We have a number of local and UK based Ambassadors with a lot more sailors all over the world, in Guatemala, Israel, South Africa, Poland, Argentina, Finland and so many more. We make careful note of countries that do not have as much support for sailing and do our best to implement new ideas in those areas. We also support sailors, SUPpers and surfers with disabilities, who inspire so many others to get out and enjoy the water.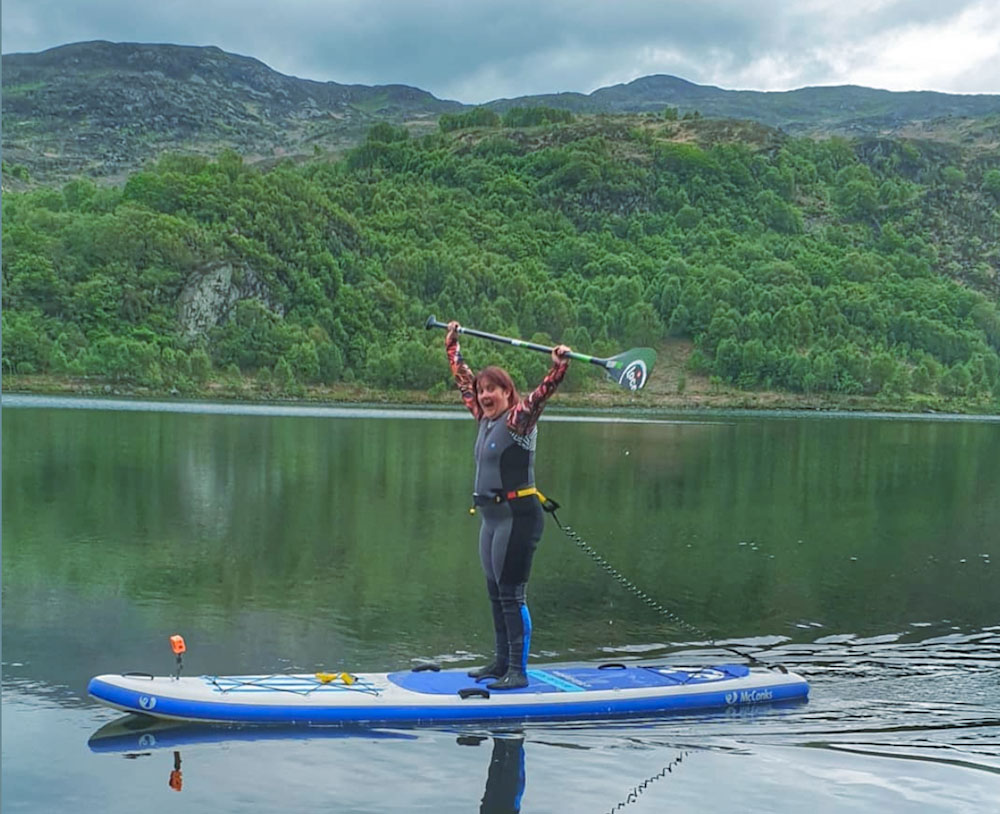 Rooster HQ
Based in Fareham, Rooster have a duty to look after the local community. All Rooster staff live within 30 minutes of Rooster HQ and are intrinsically embedded within the local social, sports and sailing communities, constantly identifying ways for Rooster to embrace and support positive change. This has meant that we have been strongly involved in local charity events, sports events and talks, sharing our knowledge and encouraging development. Every summer the Rooster team all hit the water together in the latest kit, with a shared interest of research, development, open discussion and enjoying what we've all been working on in the flesh, out of the office. Not to mention, every weekend most staff take the opportunity to sail and race with each other at our local sailing clubs, wake parks and beaches.
Apparel Appearance Promise - Representation
When it comes to our clothing we are a strictly no photoshop brand. No backgrounds are removed, no unnecessary fit or physique editing is done, the photo is taken, colour corrected and uploaded so that you have the most accurate image representation possible. The product sits how it sits and the models look exactly like how you'll see them speeding down a wave or walking down the street - maybe they look slightly calmer.
None of our models are models!
People that wear the kit know the kit best, we get in watersports enthusiasts (and their families) to show exactly how the kit works, people you'll recognise from the boat park, SUP event or in the surf.
Global Factories

Measures are already in place, monitoring working conditions/fair pay/staff welfare, this is regularly checked. All factories that Rooster work with sign an agreement stating that they will maintain standards that are fair, legal and safe. Annual trips to our factories mean that the team are regularly and thoroughly able to check that each factory upholds our detailed requirements. All aspects of employment are based on the principle of equal opportunities, regardless of race, colour, gender, religion, political affiliation, nationality, ability, sexuality or background. Material use and factory sustainability policies are being considered and reviewed in all new and updated productions and design decisions. Processes have been put in place to limit unnecessary shipments of samples and production with checks via pictures/photos in email so that any errors can be spotted in advance and corrected to limit costs and energy waste during transportation.